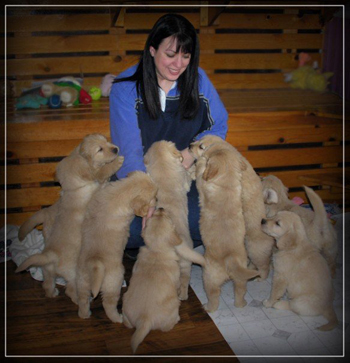 Are you growing tired of looking at overgrown feet, long fly away hairs on the ears, or tail feathering that is almost reaching the floor on your beloved Golden? Well, you've come to the right place.

I live in Halifax and have 15 years of grooming experience with goldens while owning three of my own in that time. I showed my youngest male in conformation at the dog shows until he received his Canadian Championship so I am no stranger to proper grooming practises for the breed and show ring alike. I handle your pet in a loving, humane manner in a cozy home environment making your golden more comfortable while visiting the Spaw. I can make your dog look like a show dog, even if he or she simply aspires to be the best looking dog on the sofa!
Rather than wait forever for an available appointment time at a grooming shop where your dog is not the happiest to be anyways, then why not consider having your companion groomed in the comfort of a home setting? My personal space is your dog's space too. If they want to relax on my sofa during a break, then they're more than welcome to here. Talk about home away from home!
My philosophy is based on the belief that the customers' needs are of the utmost importance - both dogs and owners alike! As a result, the majority of my business is from repeat customers and referrals.

My goal is to quickly gain the trust and respect of the dogs I groom by showing them that I understand their individual needs and am willing to take the time to make the grooming experience as pleasurable as possible. This means tailoring the sessions to dogs young and old, large and small, fit and fragile and even those who have confidence problems or who have previously had negative grooming experiences.

I interact with your dog through both play and affection (and lots of talk), provide a soothing ambience with soft music or nature sounds and even make sure to take your dog out for potty breaks. They really do receive the ultimate Spaw Treatment while in my care! Did I mention the massage they receive too?

I always work around your golden's attitude concerning grooming and as a result have become quite accustomed to trimming feet &/or nails while dogs are laying comfortably and relaxed on the floor. And trust me, it's not uncommon for a dog to fall asleep while either receiving a full body massage or pre-bath brushing. Either that or, they're rolling
over and begging for a belly rub to which I'm honored to oblige them!

So you see, yes, Scruffy can become spiffy once again!

You'd be hard pressed to find a bigger golden retriever enthusiast than myself (well, besides you of course!) so your precious companion will be in great and capable hands and spoiled beyond belief!

Besides conformation dog showing, I have also partaken in dog obedience, been involved with dog therapy work at Northwood's Senior Centre and dabble in canine photography. Training for these different events has helped me better understand and appreciate the different personalities of dogs to be groomed.
I would very much welcome the opportunity to earn your trust and to deliver you a service that I am committed to maintaining as one of the best in town.






© Good as Gold Grooming 2009-2019 All Rights Reserved